What's New at King's Brewery
09 September 2013 by Clive Walker
Update: 2017 The brewery is no longer trading. What a shame.
At the end of June, King Beer announced a new management team of Justin and Niki Deighton and head brewer Ian Burgess. I was keen to know what plans the trio might have for the company and its beers so an invite to a pre-Open Day blogger's tour and discussion at the brewery on a late Friday afternoon seemed a great way of finding out (not to mention, sampling a couple of ales whilst I was there, ahem). [Ed: a couple of ales you say?]
It was great to chat with Niki, Justin and Ian and it's evident that the new team have lots of great ideas for King's and a passion for brewing that I think will heed the company in good stead for the years ahead. They have started by developing a new overall brand for the company and created two new brand identities or beer ranges, a King's Heritage range that will include many of the 'traditional' ales that we know, and an Evolution range that promises to produce a range of new and exciting beers and flavours. I'm looking forward to trying some!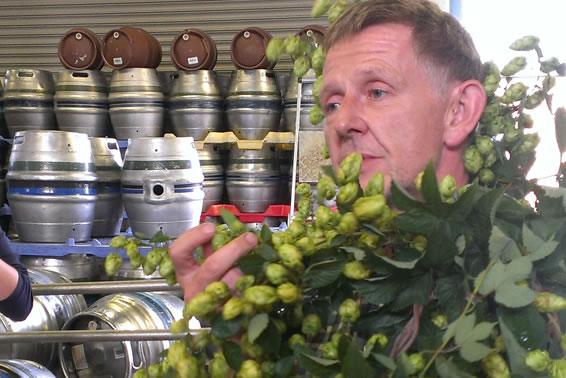 Above: Head brewer Ian Burgess is passionate about fresh hops!
In the brewery shop, there's a new Loyalty Card scheme where you collect a stamp after every £10 spent. After five stamps, you get two free bottles and after nine stamps, a King's pint glass and 20% discount off your order.
As well as talking with the new team, I had a chance to try some Sussex cheeses from Say Cheese of Sussex and Banger's Galore sausages made with King's Old Ale. Local food and ale producers in combination. What's not to like!?
The brewing industry in and around Horsham is very active at the moment and it was great to visit King's and hear about their plans. There are a wide range of different and innovative ales being developed by local breweries. Now, if only we could get a few more (especially town centre) local pubs selling local ales, that would be great!
Further Reading: The Grubby Hen reports on The King's Evolution.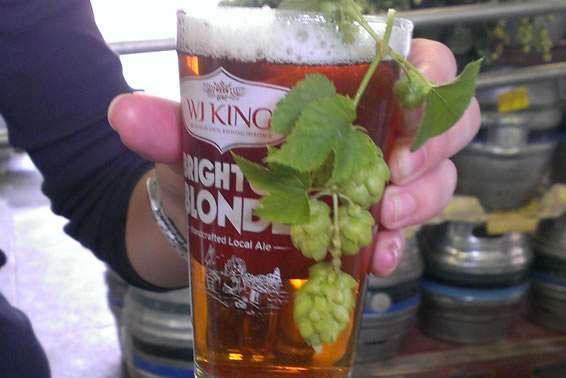 Above: Brighton Blonde ale and glass cunningly 'posed' with more hops.
Comments are OFF for this post.