Visit to Welton's Brewery
25 August 2014 by Clive Walker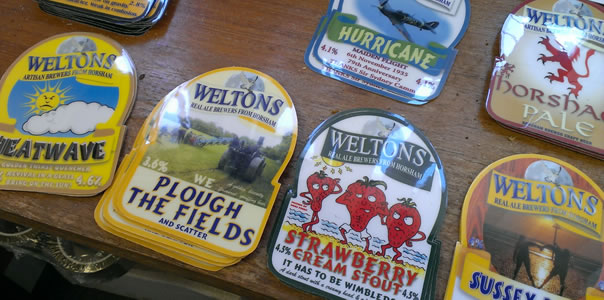 I visited Welton's Brewery last week and was given a tour with the opportunity to try some of Welton's ales. And very tasty they were too!
The tour came about via a conversation with Rach Smith on Twitter so I turned up at the brewery on Friday afternoon ready to learn more about beer and brewing.
Alex Welton and Wayne Frost from Welton's introduced the brewery and talked about beer for a couple of hours whilst we tasted five of Welton's ales. In order, here's what I tasted:
100 Litre Sprint: A light, zesty beer with frothy white head
Hurricane: A hoppy golden beer
Schooner Blond: a golden-coloured ale brewed with Admiral hops
Marathon Stout: A rich stout made with toasted oats
Churchillian: A strong, bottle conditioned, black stout with lots of flavours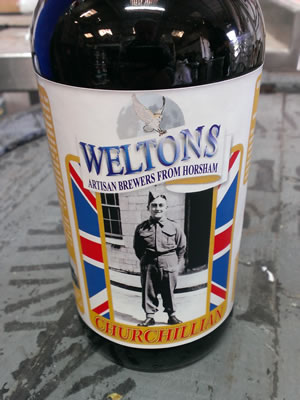 The beers were between 4% and 6.5% ABV (for the Churchillian) and it was great to try these in strength order. I have to confess that my normal tipple would be 4-5% so the Churchillian was a chance to try something different in style and strength. It didn't taste that strong though and was eminently drinkable.
My favourite of the five beers was Hurricane but the Churchillian was very nice as well. Perhaps I need to drink more stouts?!
I've tried a couple of Welton's beers before (for example, Pridenjoy) but hadn't realised what a varied range they brew. If you get the chance, check out their ales at the forthcoming Horsham Beer Festival. They are brewing Hammerpond Dark for the occasion. Can't wait to try it!
Overall, this was a great way to spend two hours on a Friday afternoon. I learnt a lot and tasted five great ales!
Comments are OFF for this post.