Lunch at the Countryman Inn
14 November 2014 by Clive Walker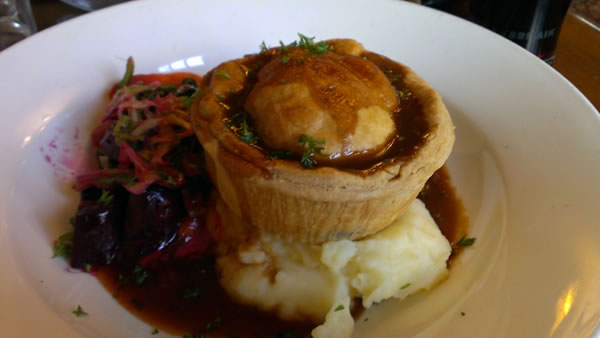 Last week I met up with another Horsham-based web developer for lunch. We meet up every couple of months to chat and compare notes about business, talk about web design and development, and plot Internet world domination. Or something like that!
Anyway, for this occasion, I suggested we visit the Countryman Inn in Shipley. I've not been to the pub for a while so this seemed like a good opportunity to revisit.
It was a Wednesday and we arrived in the pub car park overlooking a wide expanse of field. The pub is on a quiet country lane and it's probably as 'countryside' as you can get near Horsham. Inside, the pub was busy (a good sign) with at least half the tables occupied.
The pub serves three different ales and we chose King Beer's King's Old Ale and a Long Blonde from Longman Brewery. And very tasty they were too. The Old Ale was my choice and it's a smooth-tasting dark beer with hints of coffee and liquorice flavours. Very more-ish.
For my main meal, I chose the Beef and Mushroom pie and my colleague picked Bacon & Onion Roly Poly (a suet pudding type dish). They were excellent. The beef in the pie was very tender and shortcrust pastry is much better than puff pastry for a pie like this. A pie is not a proper pie without shortcrust in my opinion! The Roly Poly was equally good according to my colleague.
We had two coffees to finish and the meal, coffees and two beers came to approx. £36. However, it's not about the money for me. The food is the thing and we weren't disappointed. I'll definitely be going back to the Countryman before too long!
Comments are OFF for this post.