Wonderful beers at the Spring Equinox Beer Festival
29 March 2015 by Clive Walker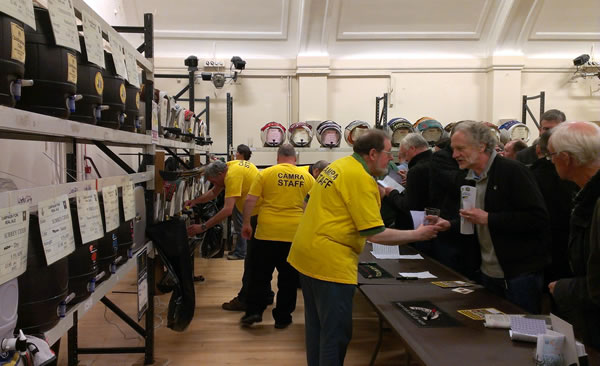 I visited the North Sussex CAMRA Spring Equinox Beer Festival at the weekend. It was a great event and I tried several beers that I'd not tasted before. They ranged from a light pale ale through to a very strong ruby ale. Quite a selection!
The 2015 Festival was the second North Sussex CAMRA event. It was my first visit because I missed it in 2014. My ticket for the Saturday evening session cost £6 which included a glass and programme. Beer token cards were available to buy on the door and each beer cost approx. £3 to £4 in tokens.
Beers at the event were arranged in two sections, light and dark beers, and each section was alphabetical. It was easy to find a beer from the programme list and all the festival volunteers were helpful and chatty.
I like to try a range of different ales at beer festivals and I tasted eight beers at this one. These are what I tried (tasting notes are taken from the North Sussex CAMRA Festival Beer List):
Clarence & Frederick's Smoked Red, 5.1%, Croydon: Deep red in hue and with the smoky aroma of an autumn bonfire.
Burning Sky Plateau, 3.5%, Firle, East Sussex: A pale ale, with a crisp malt edge and sharp bitterness from a big mix of US & NZ hops.
Firebird Pacific Gem, 4.2%, Rudgwick, West Sussex: A pale straw coloured beer with a pronounced bitterness from the New Zealand Pacific Gem hop and signature aroma of berry fruits.
Langham Saison, 3.9%, Lodsworth, West Sussex: Belgian saison yeast gives an amazing banana/clove nose, with lots of hops for a fabulous dry finish.
Top Notch Flare Path, 5.5%, Haywards Heath: Toasted caramel and malty sweetness balanced with a smooth grapefruit bitterness, tropical fruitiness and citrus aroma.
Equinox Smokin' Choc Porter, 4.9%, Horsham: Brewed for the festival by the gents of North Sussex Branch with help from Kings. A classic porter, with smoked chipotle chillies and whisky-soaked chocolate added.
Hastings Porter, 4.5%, St Leonards, East Sussex: All the flavours are there - chocolate, liquorice, deep-roasted coffee - but without the heaviness that normally confines dark beers to winter nights.
Kissingate Undertakers Varnish, 7.0%, Lower Beeding, West Sussex: A strong dark trappist style ruby ale. Fruity berry flavours derived from Bavarian hops give this beer balance and dangerous drinkability.
The beers were very different in style and showcased a wide variety of flavours. They all tasted fantastic but my favourite was local brewery Kissingate's Undertaker's Varnish. Wow! A complex beer with lots of flavours. Normally, I'm not a big fan of strong ales but this didn't taste like that. I loved it!
Two other beers that I liked very much were Clarence & Frederick's Smoked Red and Hastings Brewery's Porter. The Red tasted like whisky with its smokey flavour and the Hastings Porter was a great mix of chocolate, coffee and liquorice flavours. Wonderful beers.
Also at the Festival were two special beers brewed by local breweries, King Beer and Kissingate, and CAMRA members for the event. I tried one of these, the Smokin' Choc Porter, but missed the other one. Great idea though!
All in all, it was a great evening! Oh, and CAMRA members received a free pint. Nice one!
Comments are OFF for this post.