The Dragon awakes!
08 June 2015 by Clive Walker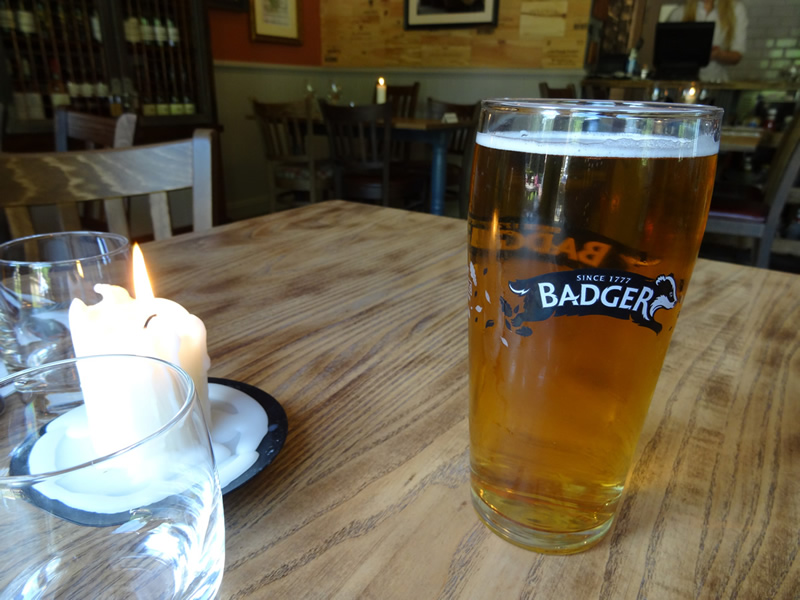 The Dragon in Colgate has been redeveloped in recent months (it re-opened in May). The pub has been extended to give it a bigger restaurant area and inside has been completely refurbished (see image gallery below) with a more modern décor and new layout (two bars have been combined into a single bar and restaurant area). It's quite a transformation!
The pub has new seating outside that adjoins the restaurant area. There's a completely new menu. Three Hall and Woodhouse beers are on tap (Sussex, First Call and Tanglefoot when I was there). Additionally, there are plans to open a shop.
I visited on a couple of occasions last week for lunch and dinner in the evening. The menu has lighter options like sandwiches and salads, through to classic dishes, like fish and chips, and steaks. There are two and three course Lunch Specials.
On my lunchtime visit, I tried a a grilled steak sandwich with mushroom, cherry tomato, onion and some chunky chips. On a different evening, I had corn-fed chicken breast with Dauphinoise potatoes and green beans for my main meal. I'd happily have both again and I look forward to trying other dishes on my next visit.
Sorry, I cannot report on the pudding and dessert menu but I'll try something from that another time!
Overall, I'm impressed with the pub's transformation. It's a complete change from the previous incarnation and has modernised and revitalised the pub. The food was great and the service was very friendly. I'll be going back!
Comments are OFF for this post.