A couple of pints at the Anchor Tap
22 February 2016 by Clive Walker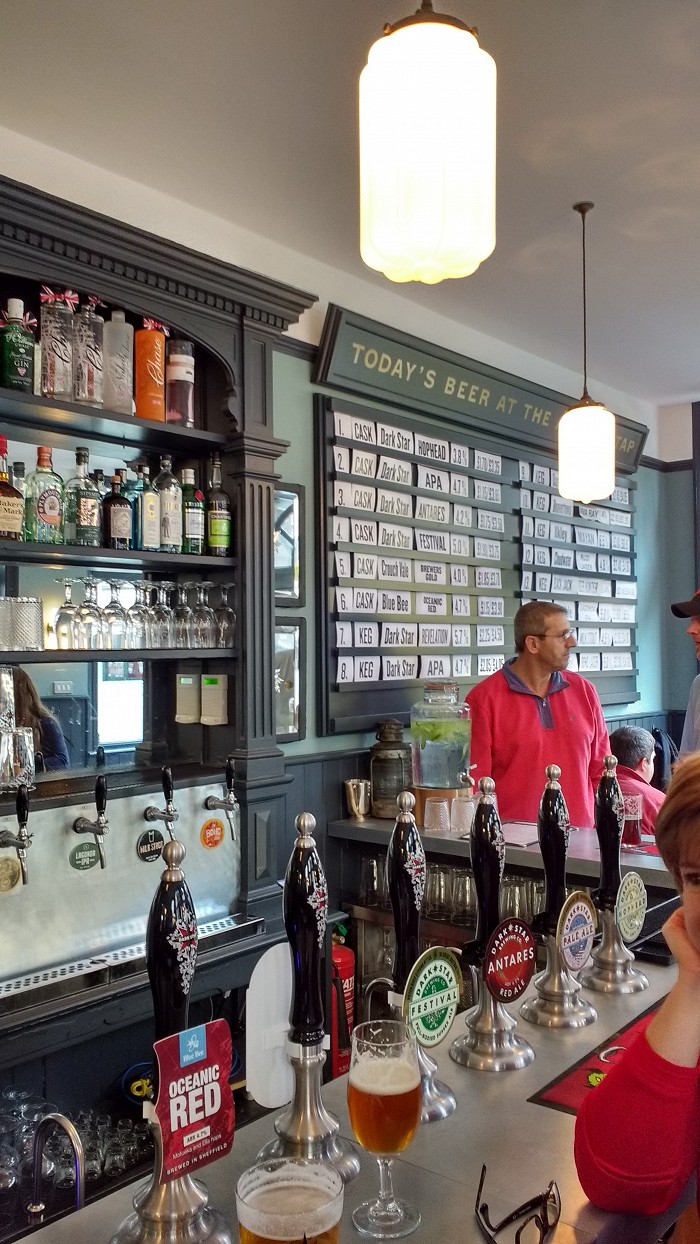 Horsham's new pub, The Anchor Tap (on Facebook and Twitter) in East Street, opened on February 12th. I missed the opening because of a weekend in Italy. But, after my return from Italian shores, I visited the pub on Saturday afternoon for a couple of pints. Here's my review.
The pub is Dark Star Brewery's first in Horsham and I was very impressed. It brings a much wider range of beers into the town centre and the building's renovation has produced a high quality, traditional pub. There's more to the pub than beer of course but that's what stood out for me on my first visit. And, what a variety of beers there are! Six hand pumps (with Dark Star and other brewer's ales) and ten beers from keg dispensers behind the stainless steel bar. Lovely stuff!
A mix of traditional and modern
The interior of the pub has a modern and retro feeling to it. A large beer menu board on the wall is a great idea. Traditional-style, custom-made bar mirrors, tiled floor, and stainless steel bar are combined with wood panelling to give a unique mix that works really well.
There was a pleasant hubbub of pub conversation on Saturday when I was there. People talking and drinking beer. What else do you need?! I tasted a couple of pints of Dark Star's own beers (Antares Red Ale and Hophead) but there is a big choice that demands a return visit (he says, ahem).
Service from the bar staff was very good. My Crouch Vale Brewer's Gold was changed as soon as it was poured because it was the last pint from the barrel. And, a small taster was provided for my friend when she wasn't sure about one of the beers. Good stuff.
A fantastic addition to Horsham's pubs
My visit was a short one but I've no hesitation in saying that the Anchor Tap is a fantastic addition to Horsham's pubs. It has an amazing choice of beers in a lovely renovated building. Dark Star Brewery have pulled out all the stops here. Great work, folks!
See Also: The Anchor Tap on Horsham Pub Guide.
Other Reviews of the Anchor Tap
Comments
Comments are OFF for this post.