A lunchtime pint at the Horsham Beer Festival
13 September 2016 by Clive Walker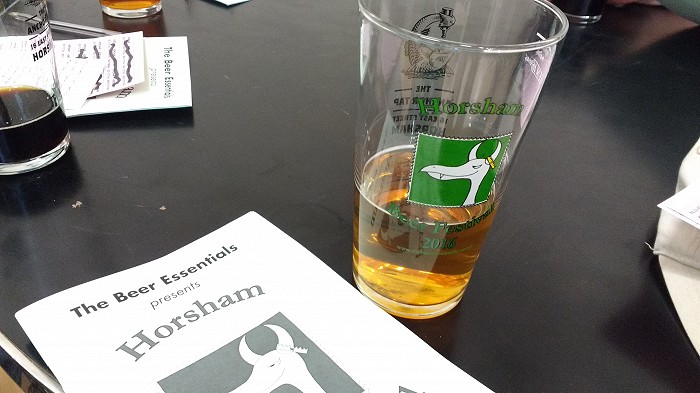 I visited Horsham Beer Festival at the weekend. It was a great event as always. The range of beers was fantastic. And the atmosphere was just right.
Many thanks to Gareth Jones (The Beer Essentials) and team for making the event happen.
In a bit more detail ....
I bought tickets in June for the Saturday lunchtime session so, after a few months wait, I was looking forward to the day! With most festivals, I like to try a range of beers, both local and national that I haven't tasted before. For me, it's not about getting completely plastered (your mileage may vary, of course!) but more about tasting different ales.
I tried the following beers (listed here with the 'official' tasting notes):
Downton Chocolate Orange Delight ABV 5.8% Salisbury, Wiltshire
A dark "old ale" with a distinctive flavour of chocolate and oranges.
Hogs Back Surrey Nirvana ABV 4% Tongham, Sussex
A light golden, hoppy bitter brewed with Cascade and Fuggles hops and then dry hopped with Centennial.
Kissingate Black Cherry Mild ABV 4.2% Lower Beeding, West Sussex
A rich mild, brewed with black cherries and lightly flavoured with Amarillo hops. Joint Runner Up Speciality Class Champion Beer of Great Britain 2016
Thornbridge Lumford ABV 3.9% Bakewell, Derbyshire
Crisp and refreshing pale ale with loads of complex tropical fruit aroma and flavour and a bitter hop finish.
Tiny Rebel Cwtch ABV 4.6% Newport, Wales
Delicious red ale brewed with six different malts and three different hops providing a superb balance of caramel and tangy bitterness. CAMRA Champion Beer of Great Britain 2015.
Titanic Plum Porter ABV 4.8% Stoke, Staffordshire
Dark and delicious porter flavoured with plums and gently hopped with Goldings hops. Winner Speciality Class Champion Beer of Great Britain 2016.
I was very pleased with all of the above although I 'cheated' a bit - they weren't all new to me. I have tasted Kissingate's Black Cherry Mild and Tiny Rebel Cwtch before. They are very good so I felt obliged to try them again.
I really enjoyed the Surrey Hills Nirvana and the Titanic Plum Porter. They are completely different in taste and style so what that says about me I don't really know!
Looking back at the beers now, I realised that I tasted several of CAMRA's champion beers. I think that just demonstrates the fantastic choice of ales that Gareth Jones chooses for the Festival. Great job, Gareth!
Anyway, it was a very enjoyable afternoon. It was good to chat with Rach Smith and many thanks to Nik Butler for listening to my increasingly rambling conversation at the Festival!
Horsham has a fantastic brewing heritage and events like the Festival are part of this. It's probably the most popular community-led event in the town. I'm looking forward to next year already.

Comments
Comments are OFF for this post.