A Friday Pub Night at Welton's Brewery
08 October 2017 by Clive Walker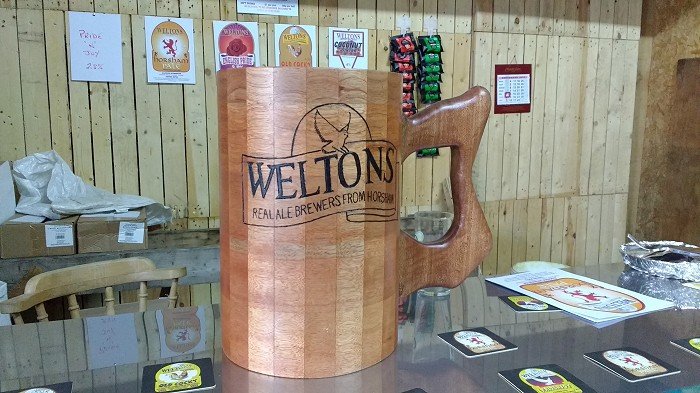 Every first Friday in the month, Welton's host a pub night at their brewery (Mulberry Trading Estate, Foundry Lane). I've visited on the last two occasions, partly because it's a convenient stop on the way home from work. Well, it is if I walk that way!
The beers are priced at approx. £3/pint.
The Pub Nights start at 6.30pm and are a great opportunity to taste some established Welton's ales like Old Cocky and Pridenjoy as well as the month's new beers. The beers are priced at approx. £3/pint.
The brewery itself is in a standard industrial unit. Don't expect a pub lounge, this is a brewery after all! However, there's a wooden bar in front of the fermenting vessels. The beers for the Pub Nights are racked behind the bar or in the store room. There is a rather unusual large wooden beer "jug" on the bar. I'm sure there's probably a story behind that!
Horsham Old Ale
My most recent visit was last Friday for October's pub night. This was the first appearance of this year's Horsham Old Ale (4.5%) which is brewed over the winter months. There were also several new ales including That Old Chestnut (a brown ale) and Pebble Beach IPA.
The Horsham Old Ale has roasted and molasses flavours. I've lived in Horsham for a while but this was actually the first time I've tasted Welton's Old. I like it. And I found it quite easy drinking, which is unusual for me with dark beers.
Also, I tried Pebble Beach which is a golden and hoppy IPA. Of course, completely different to the Old Ale but very easy drinking as well.
My friends tried some of the other ales and they seemed quite pleased with their choices :-)
The evening featured two Morris Men groups. That's not normally part of the Friday Pub Nights (as far as I know) but I think it was all part of the Horsham Old Ale introduction.
Also on the night, Welton's provided bread and a range of cheeses. Nice one.
A Friendly Evening
The Pub Nights are very friendly and there's a lively and chatty atmosphere in the brewery as the evening progresses. You can talk with Ray Welton about his brewing experiences and find out more about any of the beers, for example how and why they were brewed. I chatted with a few people I knew from a local running club. Obviously the evening must have been part of their rigorous training programme (ahem).
... a great way of tasting Horsham-brewed ales in Horsham itself

These evenings are a great way of tasting Horsham-brewed ales in Horsham itself. After all, there aren't actually too many places near the centre of Horsham that sell beers from their own town.
I enjoyed the evening and I'm planning to make these Pub Nights a regular thing. The next one is Friday 3rd November. See you there?!
Comments are OFF for this post.