Hats off to Horsham's new brewery!
02 November 2017 by Clive Walker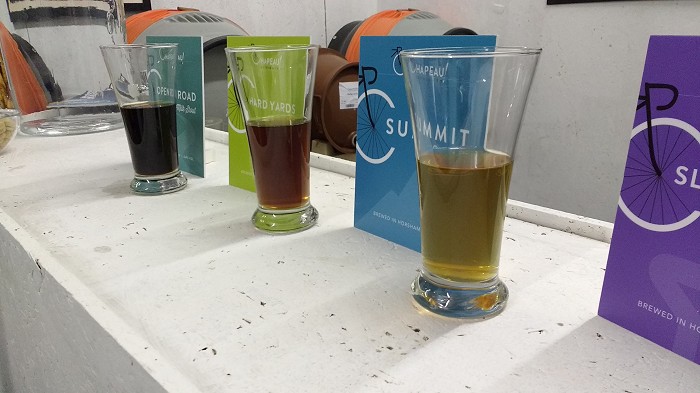 There's a new brewery in Horsham! Chapeau Brewing in Redkiln Close opened their doors for a pre-launch party on 1st November. I was lucky enough to be invited to try their beers and meet the owners, Michael Nugent and Katharine Lee.
The new brewery opens on 3rd November and will be selling to local pubs, from the brewery itself, and online. Here's their Press Release with more information.
Chapeau is a French cycling term meaning Hats Off To You
Chapeau Brewing have a range of four beers at the moment. They have cycling-related names because of the owners' love of cycling. And "Chapeau" is a French cycling term meaning Hats Off To You. Nice one!
The Beers
Tasting notes from the brewery:
Summit - Pale Ale (4%): A well balanced golden pale ale with a delicious passion fruit aroma. Packed with Summit hops and then dry hopped with Mosaic. The perfect reward after any uphill climb.
Hard Yards - Best Bitter (4.6%): A strong malt profile and a hint of chocolate. Tangy fruit finish. Worth all the hard work.
Slip Stream - English Session Bitter (3.5%): Amber coloured session bitter. Caramel malt flavours with a zesty bitter finish. Effortless drinking!
Open Road - Milk Stout (4.4%): Rich roasted coffee and chocolate aromas. Lactose sweetness beautifully balanced by the dark malts and hop finish. As smooth as freshly laid tarmac.
I tried all four ales and found them all easy drinking. Each beer had something that I liked. The hoppy Summit Pale Ale. The subtle caramel flavours of Slip Stream. The smoothness of the Milk Stout. However, my favourite was Hard Yards. It's a great combination of malt and hops. Of course, I'll need to revisit and buy a take-out just to check that my first opinion was correct :-)
There's a lot of work gone into getting the beers just right
The beer range works really well together in my opinion. There's a lot of work gone into getting the beers just right and that's evident in all four.
French Alps to Horsham
It was great to talk with Michael and Katharine about their love of beer (and cycling). And find out a little bit about their background. Michael worked as a chef for 20 years and they lived in Alpe d'Huez in the French Alps before moving to Horsham. They both have a great enthusiasm for brewing and beer.
There will be challenges ahead for Chapeau Brewing but they have made a great start and I'm sure they will be successful! I'll be heading back to the brewery soon to buy some bottles and take-outs. Join me there?!
Comments are OFF for this post.