A tour of Firebird Brewery
16 November 2017 by Clive Walker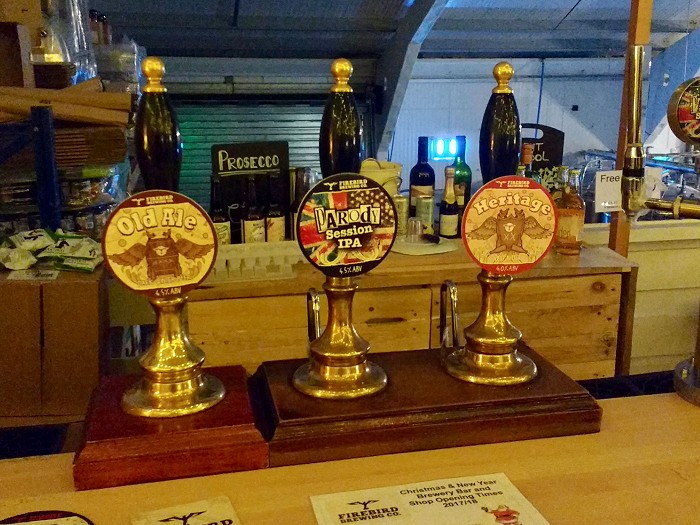 Firebird Brewery tours take place every second Tuesday of the month (tour times are 6.30 to 8.30pm) and cost £17. For that, you get unlimited beers with cheese toasties from Sussex Charmer (neighbours at the same location), a pint glass to take home, and a rundown of the brewing process. Oh, and 10% discount in the shop as well. Nice one.
My coworking colleagues and I booked a place on this week's tour and turned up at the brewery at 6.30pm and found ourselves with 20 or so other folks. Firebird Brewery has been open for four years now but I have to confess this was my first visit. Shame on me!
About Firebird
The brewery is in a new unit on the site of the old Rudgwick Brickworks (map) which is now a small industrial park.
Firebird is owned and managed by Bill King (ex-King and Barnes) and Richard Peters (ex-Courage).
The brewery is a medium-sized operation. Small by the standards of the multinational breweries but larger than a microbrewery. It has its own bar area in a mezzanine above the brewing vessels. This layout works really well and it was a great place to spend a few hours with some lovely beers.
Why Gordon Brown is a Beer Hero
On our tour, we were given an explanation of the brewing process by Richard Peters in an entertaining and informative presentation on the ground floor by the brewing kit. There was even a "little bit of politics" when Richard told us why the ex-Chancellor and PM, Gordon Brown, is a "beer hero". The reason: In 2002, he halved the duty on beer for small producers. That's been a big influence on the industry and sparked the craft beer phenomenon!
Tasting notes
During the evening I tried three ales:
Old Ale - similar to the King and Barnes Old Ale of a few years ago. A smooth dark winter beer made with Carafa malt and flavoured with molasses.
Parody Session IPA. This is a relatively new beer for Firebird and it's quite a fruity, citrusy session IPA. I liked it.
Coffee Porter. Another dark ale but with a wonderful coffee aroma and taste. Fantastic and probably my favourite of the evening.
All in all, there were about six or seven ales I could have tried but the three I tasted were all great so I stayed with those.
Halfway through the evening, several trays of Sussex Charmer cheese on toast arrived. It's a tasty cheese and was the perfect snack to accompany the beers.
Overall
A great evening and a well-organised tour. Good to chat with Bill King and Richard Peters. Lovely bar area. Well-stocked shop.
I plan to return soon!
Comments are OFF for this post.