The Half Moon shines brightly
27 November 2017 by Clive Walker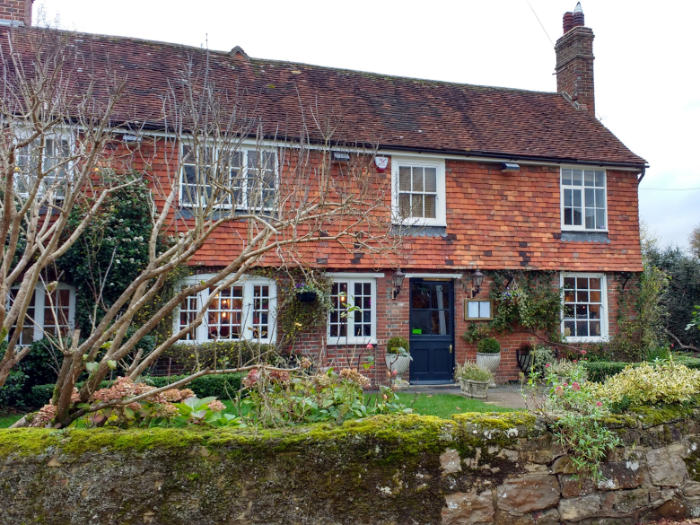 The Half Moon in Kirdford was bought in the summer by fashion model, racing car driver and TV personality, Jodie Kidd. Since then, the Grade II listed pub has been renovated with new bar and interior, new menus, an outdoor patio area, and a host of other improvements. I was lucky enough to be invited to a Press Lunch last week where I met Jodie and the Half Moon team.
Firstly, disclaimer, this was a complimentary lunch at the pub and some folks might think that's buying a good review1. Um, that's not the case, and this post is my honest opinion about the pub.
First impressions
I drove to Kirdford via a quiet country lane from Wisborough Green. The Half Moon is opposite a village church and next to some lovely country cottages.
At the front of the pub is a small walled garden and the front door opens into a restaurant area on the left and a bar at right. The bar opens up into a slightly bigger area that leads onto the large garden with patio (and well!) at the rear.
I visited on a grey Autumnal day; the garden will be fantastic in the Spring/Summer.
The garden has a herb plot and there's a vegetable patch adjacent. The team at the Half Moon have plans to grow as much of their food as possible. And to use local suppliers.
The pub's mixture of old and modern feels absolutely right
Inside, the pub feels absolutely right. It's a mixture of old (inglenook fireplace) and modern. There's a lot of hard work gone into the renovation and it shows.
I liked the bar area. The bar itself is new and has been extended in the refurbishment. It looks fab! [see Image Gallery below]
Local beers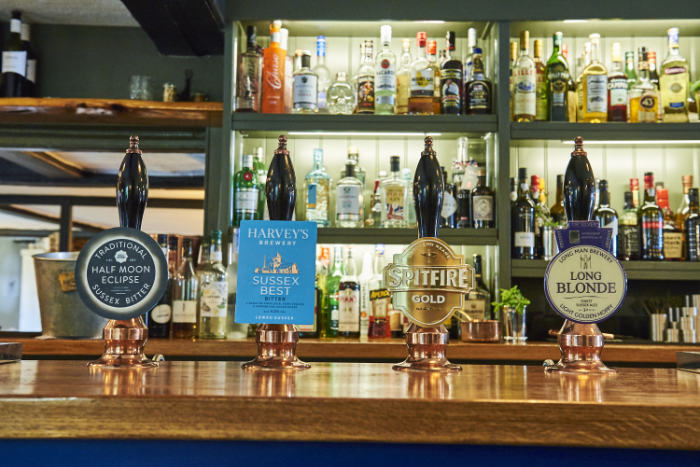 I tried the Half Moon Eclipse bitter on my visit. It's a session bitter made for the pub by Brolly Brewing in nearby Wisborough Green. It's brewed with five malts and three hops. It tasted great. Just right for sitting at the bar for an hour or several!
The other ales on tap were Harvey's Sussex, Long Man's Long Blonde and Spitfire Gold. Three out of the four beers from Sussex. Good stuff.
Tasting menu
We were served a four course tasting menu for lunch. Each course was immaculately presented and served with a different wine. I was driving so I'll leave any comments about the wine to others. The wine list was extensive though and my colleagues at the lunch were impressed.
The food was fabulous. I particularly liked the venison main course and apple trifle dessert. And the roasted cod with celeriac dish. And the chestnut ravioli and mushrooms starter. Oh, wait, I liked them all! Every course was very good. A great credit to Head Chef Andy MacKenzie and team.
Meet the landlady
Jodie Kidd was working in the kitchen during our visit. Cooking and preparing for the pub's Curry Night that evening. There's a skilled team running the pub of course but I like the hands on approach that Jodie Kidd is taking. She talked about the pub's purchase after our meal (while taking selfies and other photographs with us in the pub's front garden!). Even though she has lived in the local area all her life, it was only after driving past the pub with two friends that the idea to buy it came about.
We are proud to be a pub first and foremost, aspiring to serve quality food and provide great service - Half Moon
It was great to hear about plans for the pub and I was impressed by Jodie Kidd's enthusiasm and love for the pub (and her love of working there). There's a real passion for making the Half Moon work as a local venue whilst offering a high standard of food and wines. That will be a tough challenge but the organic, home from home ethos, bodes well.
Final thoughts
Overall, it would be lunacy [Ed: I see what you did there] not to visit this pub and try its local food, wine and ales. It's a lovely setting in a quiet Sussex village and the pub has been revitalised over the summer months. I'm certainly planning a return visit.
Footnotes
Frankly, I'm not entirely sure that a post on Horsham Pub Guide is worth too much :-) ↩︎
Gallery
Comments are OFF for this post.