Return of the Spring Equinox Beer Festival
04 March 2019 by Clive Walker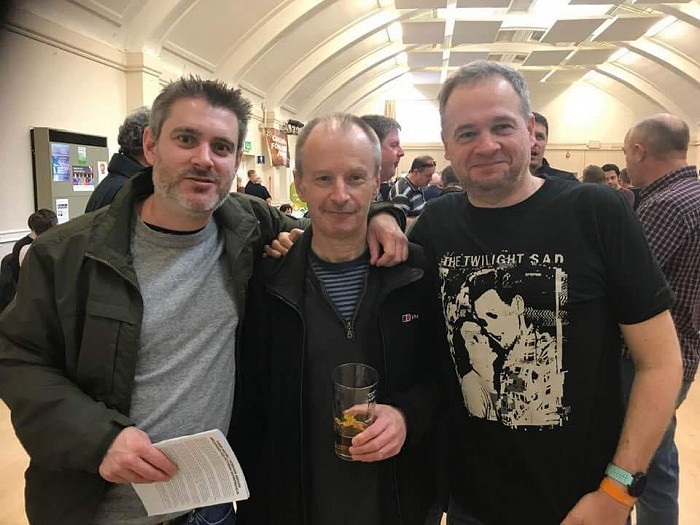 Above: Matt Ide, me and Roger Johnson at the Beer Festival
The North Sussex CAMRA Spring Equinox Beer Festival took place last weekend. The 2019 Festival was the sixth North Sussex CAMRA event. And my fourth. Doesn't time fly!
The Festival had a relaxed atmosphere in the Drill Hall and it wasn't too crowded. The Saturday afternoon tickets were £7 and the session was 11.30am to 4.30pm. Quite a session! Beer tokens were sold in strips of £5 each and beers cost between £2.80 and £4.00/pint.
Most of the beers at the event were arranged in two sections, light and dark, and each section was alphabetical. There was also a cider selection, "Stringer's Bar", and a small range of keg beers. Personally, I don't have a problem with keg beers at a festival but I imagine that some folks might. However, I like the alternative choice that they provide.
Here are the beers that I tried (tasting notes from the CAMRA festival beer list and programme).
Beartown Crème Bearlee (4.8%, Congleton, Cheshire): A luscious stout with rich vanilla and molasses.
Chapeau Col Beans (5.5%, Horsham): A brown ale infused with Ethiopian coffee, giving jasmine, apricot and honey notes.
Cairngorm Sheepshaggers Gold (4.5%, Aviemore, Scotland): Golden continental style beer, full-bodied and a refreshing aftertaste.
Downlands Mosaic (4.8%, Small Dole): Single hopped American pale ale. Punchy with tropical flavours. Vegan ale.
Greyhound B-46 (4.6%, West Chiltington): Dark amber ale, with biscuit malt, toast and blackberry flavours balancing a clean hoppy finish.
Hawkshead Windermere Pale (3.5%, Staveley, Cumbria): Thirst quenching, very pale, easy drinking summer ale with English hops.
Plain Hairy Hooker (4%, Sutton Veny, Wiltshire): Amber bitter, with medium sweetness, light bitterness, and aromas of caramel, fruit and raisin.
Titanic Black Ice (4.1%, Burslem, Staffs): Black in colour, yet drinks like a well hopped traditional bitter.
As with every beer festival these days, the choice and variety was excellent. I don't have a favourite from the above because they were all great in their own way.
I missed out on the two beers of the Festival (as voted by other festival-goers) which were both from Cerne Abbas Brewery (Gurt Coconuts Rum Stout and Harlequin IPA). Oh well. I'll look out for them on my other beer travels.

If you haven't been to the Spring Equinox Festival, it's a great event with a fabulous choice of ales. Look out for next year's date!
Comments are OFF for this post.