The George and Dragon
Dragons Lane, Dragon's Green, RH13 8GE · Telephone 01403 741320
I Like
Description
The George and Dragon is a small pub, usually decorated with flowers, in an idyllic setting on a quiet lane. There is a small flag-stoned bar inside the pub and a large, grassy garden to the rear.
In 2012, the pub changed ownership/management and re-opened after refurbishment. It's now a freehouse with beers, for example Brighton Best and Hophead, from several Sussex breweries. Yay!
Rather strangely, there is a gravestone, of the albino son of a former innkeeper, in the front garden. The grave is in the church but the gravestone was removed by the vicar, apparently because of the inscription, so the parents put the memorial in their pub garden.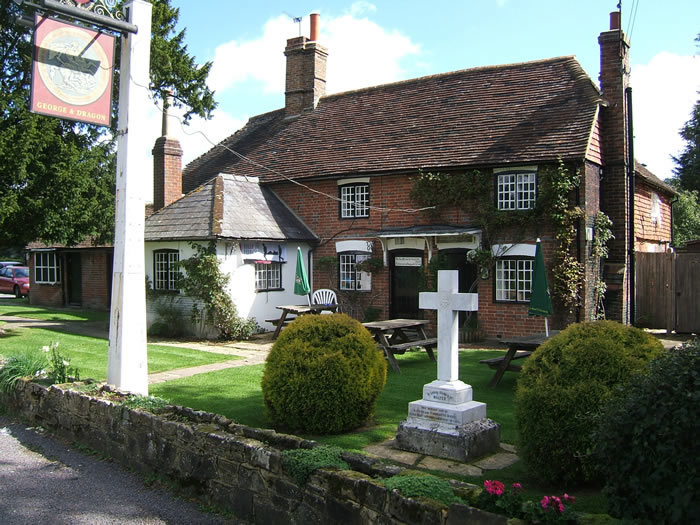 Map
OS Map: Landranger 187 · Map reference TQ 139 235
Suggested cycling routes from here
Visit Shipley, just south of the pub, and see the restored windmill which used to be the home of the poet Hillaire Belloc. It was also the location for the TV series 'Jonathan Creek'
Also nearby is the Countryman Inn
Return home via the quiet roads between the A272 - Dragons Green - Christ's Hospital - Southwater/Horsham. Visit the Bax Castle on the way!